First plenary meeting of 43rd session of UNESCO World Heritage Committee kicks off
2019-07-12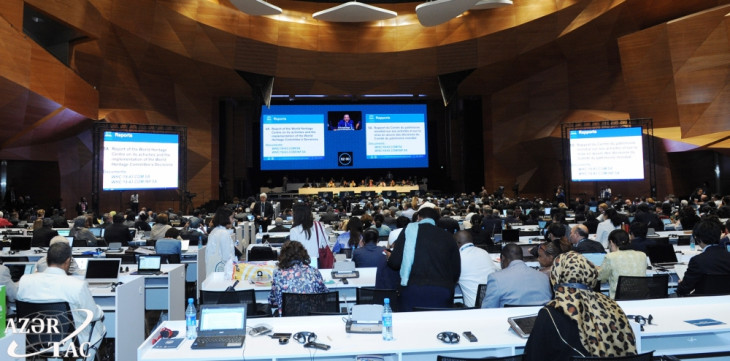 The first plenary meeting as part of the 43rd session of the UNESCO World Heritage Committee has got underway at Baku Convention Center.
The session agenda was announced. The event also heard the reports from representatives of member states.
Addressing the event, Chair of the Organizing Committee of the 43rd Session of the World Heritage Committee, Azerbaijan's Minister of Culture Abulfas Garayev highlighted the agenda. He said that the event which brings together nearly 3000 delegates from 180 countries, is a sign of Azerbaijan's growing influence on the international scene, describing this as a significant opportunity in order to show the world the history and the level of modern development, rich culture and art of Azerbaijan.
Director of the UNESCO World Heritage Centre Mechtild Rössler hailed the importance of the event. She noted that she had witnessed interesting discussions at the World Heritage Site Managers and Young Professionals forums organized during the sessions.
Other speakers at the session thanked the government of Azerbaijan for the excellent organization of the event.
Minister of Culture Abulfas Garayev made a proposal to adopt Baku Declaration which contributes to the preservation of cultural heritage across the globe and aims to attract the world community's attention to this issue.
The Baku Declaration then was adopted by the member states.